Inside TableTop: Panel with Wil Wheaton at Gen Con 2013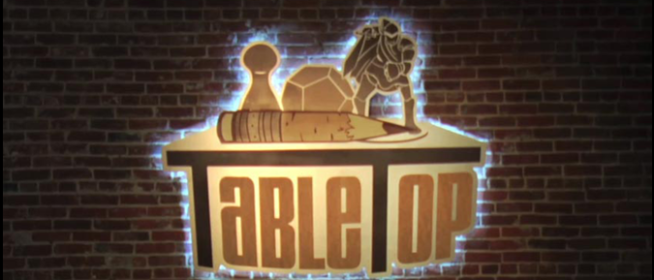 Day four of Gen Con we found ourselves at a TableTop panel with Wil Wheaton and Boyan Radakovich (Geek & Sundry producer), something we knew we did not want to miss.
One of the interesting things about this panel was that it was pretty much a last minute thing, having been announced on Friday (Day 2 of GenCon). We had no clue about it, until we happened to wander into the Geek & Sundry booth, that's when the girl working in there told us about the panel. The fact that it was a recent development is why I suspect no one really knew about it, seeing as not many people showed up to it.
Wil commented on how it's been a long time since he talked to such a small audience, but he actually seemed somewhat happy about it. Then he swore us to secrecy, and told us some juicy secrets. You really should have been there. If you ever get the chance to hear Wil talk about something he loves, I highly suggest you take the opportunity. He was insightful, open, honest, and very funny.
They talked about how TableTop came to be; Felicia had approached Wil and asked if he wanted to do a show for her new Geek & Sundry channel, and knowing he liked gaming she thought maybe he could do game reviews. But Wil thought that would be boring. Eventually he came up with the idea for simply playing games he loves, with his friends (and sometimes his family). Wil even created the logo, one he figured they would make better, but it's still basically the same one he sketched out on a napkin. They also talked a bit about the possible future of TableTop.
Wil said it's often an FAQ, so he thought he should tell us how they pick the games they play on the show. They basically follow 3 simple rules:
Wil has to love it (perfectly logical).
The game has to have a high ratio of luck to strategy.
It needs to be playable under 90 minutes, and explainable in 5 minutes.
After the chat, there was a Q&A, then we got the chance to watch an advanced screening of an upcoming episode of TableTop, featuring Felicia Day, where they play Lords of Waterdeep. It was absolutely hilarious! I believe Wil said it would be up on Thursday, so make sure to check it out.
We were also lucky enough to get TableTop themed promo pack for Gloom, they came out for International TableTop Day, and they had some leftovers so Wil let all of us have them.
If you haven't already, you should go watch some TableTop. This series has been know to bring former gamers back into gaming, and it's even helped people get into gaming for the first time! Through this show you may also discover a new favorite game you may never have thought of playing before (this has happened to me).
Deliveries Kamagra Oral Jelly are conducted almost round the clock but. Next Day Delivery it is convenient not to everyone and therefore to solve to you.