The Four Horsemen of the Apocalypse graphic novel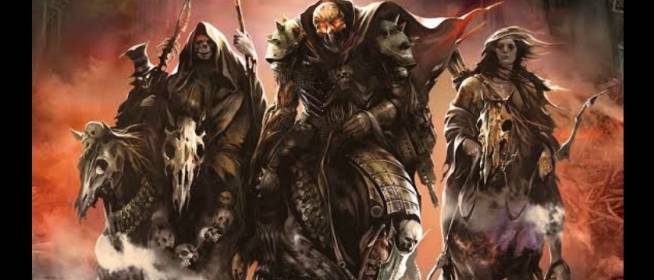 Today Titan Comics releases The Four Horsemen Of The Apocalypse
graphic novel, an epic adventure written by Michael Mendheim, and illustrated Simon Bisley.
The End of Days is here, and four lost souls must climb from the depths of Hell itself to stand against the monstrous Four Horsemen of the Apocalypse – for the sake of humanity!
I was very interested in reading this, because it is one of my favorite genres, and I always love to see what kind of new element can be brought to a story that has been told many times. This graphic novel did not disappoint.
Our heroes in the story were well written, and fleshed out enough so you could get to know them, and even understand them. Their personalities are pretty varied, and they're not your typical heroes, they're actually pretty broken, and maybe not all of them can be trusted. The Horsemen are vile, and destructive, they ready to defeat the four lost souls who's goal it is to defend humanity. Who will be successful?
I was captivated by the intriguing story, as well as the magnificent artwork. Truly wonderful to look at.
Deliveries Kamagra Oral Jelly are conducted almost round the clock but. Next Day Delivery it is convenient not to everyone and therefore to solve to you.