The Hobbit: The Desolation of Smaug Review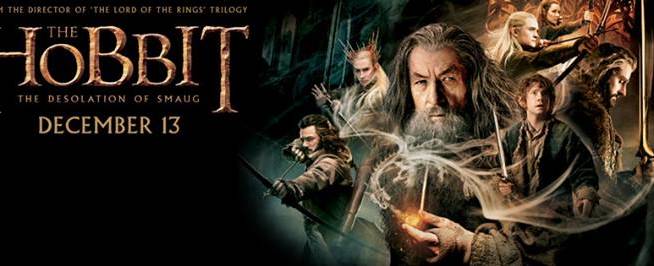 Wizards and Dwarves lined up to see a movie? Yep, we must have gone to the midnight showing of The Hobbit: The Desolation of Smaug.

"The dwarves, along with Bilbo Baggins and Gandalf the Grey, continue their quest to reclaim Erebor, their homeland, from Smaug. Bilbo Baggins is in possession of a mysterious and magical ring." (from IMDb)
The Lord of the Rings movie trilogy is a favorite of mine, and I absolutely love being transported back into that world through The Hobbit movies. So I was super excited about seeing the second installation of this series, and can't wait to see the final movie next year!
There was so much going on, I really have no idea how to review this movie, so I will keep it short, and simple. To give a proper review I would have to watch it a second time.
As usual the actors were wonderful, there's just so much talent on the screen. The music is essential for keeping you in the moment, it was visually stunning, and Smaug's voice will send shivers down your spine. The film is filled with action, fun and excitement. My only complaint, that I can think of at the moment, is there's too much CGI, and there were a few things I thought looked too fake.
I enjoyed the second movie tremendously, and found it to be much better than the first one (though, to be fair, I haven't watched the first movie since it was released in theaters). Any fan of the series is sure to love The Hobbit: The Desolation of Smaug.
Deliveries Kamagra Oral Jelly are conducted almost round the clock but. Next Day Delivery it is convenient not to everyone and therefore to solve to you.