The Weirding Willows – Graphic Novel
Vol 1. What the Wild Things Are
On July 1st Titan Comics will release The Weirding Willows Vol.1
, written by Dave Elliot, and illustrated by Barnaby Bagenda.
When she was nine, Alice discovered a portal to another world, a world called Wonderland. But Wonderland isn't the only world connected to the Wild Woods, a dimensional nexus that Alice spent her childhood exploring. It's a strange, magical place where Earth, Wonderland, OZ, Neverland, Mars, Pellucidar, and Elysium collide – and where anything can happen!
Just a few things you will find in this volume; talking rabbits, Frankenstein's Monster, a rampaging purple T-Rex, Mowgli, and a werewolf, to name a few.
In this series Alice is 18, living with her father, Doctor Philippe Moreau. Doctor Moreau, as you probably imagined with a name like that, is basically a mad scientist. Alice is not quite the girl you may remember, this Alice is flippant, and has learned to dissociate herself from her fathers work.
Our Thoughts:
This is an entertaining trip to other worlds, with characters I remember from stories I read in my childhood. In this story those characters are mostly different than I remember, and wonderfully so.
The Weirding Willows
has become one of my favorite comics. I love the way Dave Elliot has woven together these worlds, and characters, into a story together. It's truly a magical, epic, adventure, and you should come along for the ride!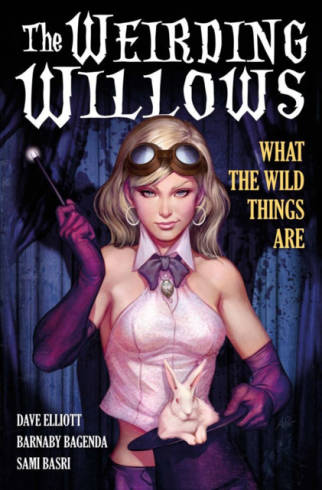 Disclosure: We received this copy from Titan Books for review purposes.
Deliveries Kamagra Oral Jelly are conducted almost round the clock but. Next Day Delivery it is convenient not to everyone and therefore to solve to you.