This Week in Geek: The Best of Both Worlds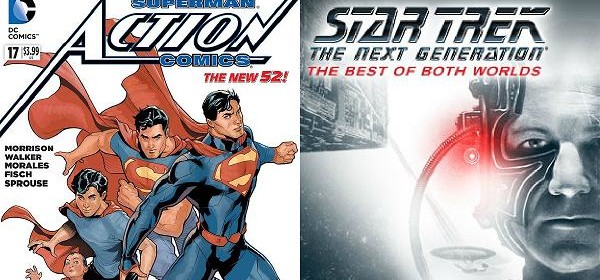 This week in geek brings us a new TV series from Rockne S. O'Bannon (Farscape, Alien Nation), info on on the PS4, and news that a certain convention is coming back.
TV:
The long awaited thriller drama from Rockne S. O'Bannon, Cult, finally premiered on the CW. We checked it out, and really liked it. Looking forward to watching it every week.
Today Babylon 5 turns 20. Great show, still miss it…And, 20 years…really?!
This happened in London….
Movies:
Coming to theaters on April 25th; ST:TNG "The Best of Both Worlds". Tickets are on sale now, we already have ours!
Comics:
I was over at io9 and saw they had a preview of Grant Morison's penultimate issue of Action Comics. Check it out, if you haven't already.
Gaming:
You may remember a little thing called BlizzCon, well it will be back this year! November 8th-9th at the Anaheim Convention Center.
And I think we have all heard about the Playstation 4 announcement.
Internet Goodness:
Amuse your coworkers with this: You had one job.
Geek Toys:
Some new Star Trek Hot Wheels ships were recently revealed at the New York Toy Fair.
Deliveries Kamagra Oral Jelly are conducted almost round the clock but. Next Day Delivery it is convenient not to everyone and therefore to solve to you.