Titan Comics Announces Eighth Doctor Miniseries!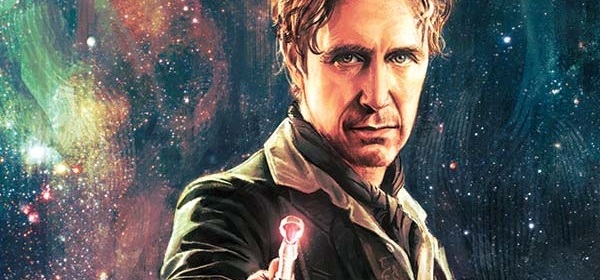 Titan Comics announced at San Diego Comic Con that they will publish a brand-new miniseries featuring The Eighth Doctor, as played by Paul McGann!

The series will hit comic storesOctober 28​ and will be penned by writer George Mann (New York Times-bestselling Doctor Who novel Engines of War!) with art by Emma Vieceli (Breaks, Alex Rider: Scorpia, Dead Boy Detectives, Vampire Academy, Manga Shakespeare).
DOCTOR WHO: THE EIGHTH DOCTOR #1
Writers: George Mann
Artist: Emma Vieceli
Publisher: Titan Comics
Frequency: 1 (of 5)
Page Count: 32pp
Price: $3.99
On sale Date: October 28, 2015
"I'M THE DOCTOR, AND I'D VERY MUCH LIKE TO KNOW WHAT YOU'RE DOING IN MY HOUSE…"
Get ready for an all-new season of comics adventures featuring the Eighth Doctor, as played by Paul McGann in the Doctor Who movie, fan-favorite minisode Night of the Doctor… and over fourteen years (and counting!) of astounding Big Finish audio spectaculars!
Five amazing, interconnected new stories take the Doctor on a rollercoaster of threat and misadventure, as he investigates the mysteries surrounding his new companion Josie. Victorian magic shows, murderous trees, lost books, crystalline life-forms, barges in space crammed with the undead… and the grand journey all begins in a sleepy Welsh town… besieged by living paintings!
Buckle up for a wild ride that embraces all the Gothic Romance and interstellar terror of the Doctor's eighth incarnation!
Deliveries Kamagra Oral Jelly are conducted almost round the clock but. Next Day Delivery it is convenient not to everyone and therefore to solve to you.