Titan Vinyl Figures by Matt Jones (Lunartik)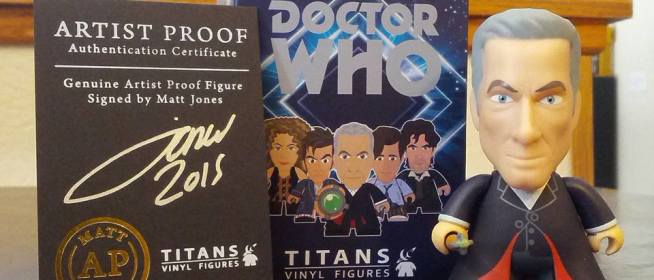 Lunatic, the art of Matt Jones, has created some new figures and artists proofs for the Titans Vinyl Figures line!
We received a 12th Doctor vinyl figure, and are happy to add it to what will become our new collecting obsession! These are incredibly adorable, and definitely resemble your favorite characters.
The figures come signed by the artist, and with a signed artists proof authentication certificate. You can choose from 3″ Doctor Who – Regeneration, Doctor Who – Gallifrey, Alien, Breaking Bad, and The Beatles, as well as 6.5″ & 8″ figures.

Make sure to follow Matt (Lunartik) online, Facebook, Twitter. Now get out there, and start a collection of awesomeness with these Titans Vinyl Figures!
Here are some views of the figure. Look how awesome he is, I love him!
Deliveries Kamagra Oral Jelly are conducted almost round the clock but. Next Day Delivery it is convenient not to everyone and therefore to solve to you.