Toy Review: Supernatural Funko Pop!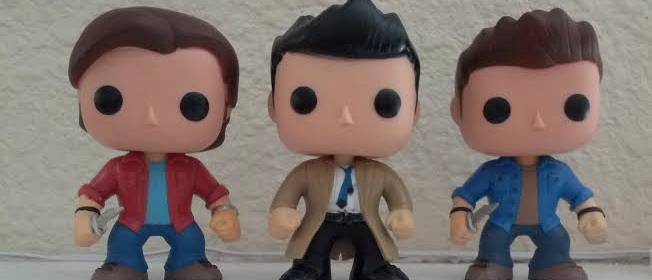 When Funko Pop! came out with Sam and Dean Winchester, and Castiel vinyl pops I was super excited, and of course I just had to collect them!
Looking at all my Pop! figures I really can't find much, if anything, to complain about. They're simply adorable, and, even when Funko reuses a body, there are changes, and 'character' added to it so it will represent that specific Pop. Which is what brings me to my disappointment with Sam & Dean.
The only thing they did to alter the body portion was to change the colors of their shirts. I know they have done this same thing for figures in the past, but this is a bit different, because these 2 figures go together, so it's simply a lot more noticeable. Same clothes, and same dagger. But, even though I'm complaining about that, I absolutely adore my Sam and Dean Funko Pops!
Small flaws with the paint job on Sams back, one spot looks like it's been scraped off a little, and there's a random spot of light blue. Also, he's wobbly. It's a bit annoying, because I have them on my desk, and occasionally the desk gets bumped, and Sam falls (no, this is not how the paint on his back got scraped, that was there when I first opened him).

There is a nice little detail that they added, one I almost didn't even notice. If you look at his right hand you will see they painted a silver ring on one of his fingers. Nice touch (even though I think it's the wrong finger)! I would have much prefer Dean was holding a gun, instead of a knife.

I'm pretty sure they reused Nick Fury's body for Cas, which is fine, that simply means the trench-coat isn't really accurate. I think the painted on tie looks a little cheesy, but I'm actually OK with it.
Putting aside the small imperfections, overall, I love all three of these Funko Pop! vinyl figures, and I am happy to have them in my collection!
Deliveries Kamagra Oral Jelly are conducted almost round the clock but. Next Day Delivery it is convenient not to everyone and therefore to solve to you.