Wallace & Gromit Comic Strips Collection

Most people we know are Wallace and Gromit
fans, and over here at Awkward Geeks we are no different.
We have seen all the Wallace & Gromit
specials, so we were super excited to be able to get our hands on Wallace and Gromit: The Complete Newspaper Comic Strip Collection Volume 1: 2010-2011
.
The Wallace and Gromit comic strip appears daily in The Sun, the UK's best selling national newspaper. This book collects together, for the first time ever, the entire first year's worth of material and features scripts written and drawn by some of the best names working in British comics today.
52 weeks, 52 stories and 312 individuals strips. Each fully originated and self-contained story runs over six days and contains more jokes and silliness than you could shake a left-handed widget plunger at. From tales about home dentistry, and bee keeping, to battles with Feathers McGraw, and out-of-control robotic scarecrows. Wallace and Gromit's lives are anything but normal!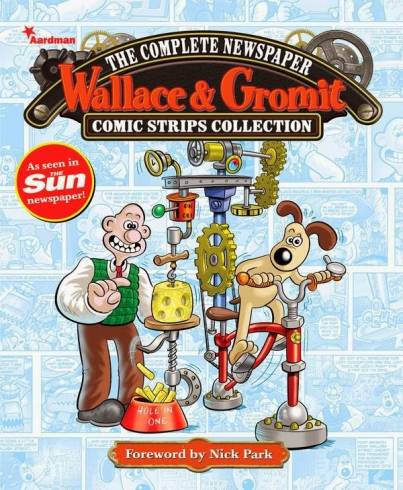 Some titles are a take on movies that you're probably familiar with; "Jurassic Lark", Raiders of the Lost Bark", and "Ghostblusters".
It includes an exclusive foreword by Wallace and Gromit creator Nick Park.
As always, Wallace & Gromit are quirky and endearing. It was a nice treat being able to read all of these colorful comic strips. There were some photos of their stop motion counterparts in between some of the comic strips, those added to the entertainment of the book, and were simply fun to look at.
If you're a Wallace & Gromit
fan then you should definitely add Wallace and Gromit: The Complete Newspaper Comic Strip Collection Volume 1: 2010-2011
to your collection.
Disclosure: We received this copy from Titan Books for review purposes.
Deliveries Kamagra Oral Jelly are conducted almost round the clock but. Next Day Delivery it is convenient not to everyone and therefore to solve to you.