Watching: Sleepy Hollow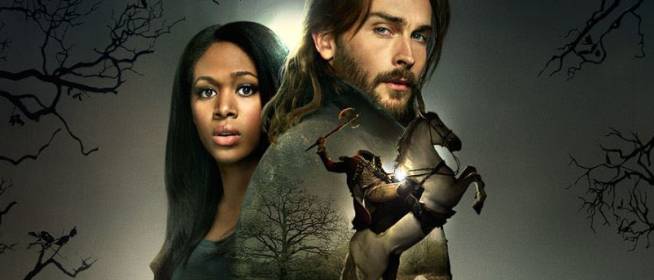 When this show first premiered I was pretty excited about it, and I very much enjoyed the first season. Then I lost track of it, because I always lose track of shows, until I eventually end up marathoning them.
After rewatching the first season (I had missed the last few episodes of it the first time around) I found I still very much enjoyed the series. As I got into the second season I noticed the charm was gone, and now I am into the third season and am finding myself distracted as I watch it.
At this point I feel the only real redeeming quality, and the only reason I keep watching, is because I very much enjoy Tom Mison's protrayal of Ichabod Crane. Not gonna lie, I could look at him, and listen to his voice all day long. I do also enjoy Nicole Beharie as Abbie. But really, that's it. I really don't care about the other characters at all, not even Abbie's sister.  And I really wish that third season regular, Joe, was being played by another actor. I feel as though Zach Appleman (Joe) spends much of his screen time with his mouth hanging open, looking dopey and boring. I feel like the only reason he got the role is because he does seem to look like he could possibly be Clancy Brown's son. Not to mention the romance between him Jenny seemed rushed, and there was no chemistry.
I did like some things in the last two seasons, but it seems like the show lost it's way. In retrospect I feel like they did a few things too soon. Such as getting Ichabod's wife out of purgatory, revealing who the Headless Horseman is, and the Horseman of War. It seemed a bit rushed, I would have much preferred a little more mystery, and for those story lines to last a bit longer. I had hoped it would be a story of all the (mysterious) Horsemen arriving one by one, and our team of heroes finding ways to defeat them.
Some of the problems I noticed: I lost interest in Katrina (who wasn't that interesting in the first place) once she was out of purgatory, and became a bigger part of the story. Revealing the Horseman, and allowing us to see him interact as Abraham, killed the mystery and scariness of the character. He was suddenly nothing more than a love sick, heartbroken, bitter man. Same with the Horseman of War. Revealing him to be Ichabod and Karina's son, who is really nothing more than old man with abandonment issues. I mean, these are supposed to be two of the terrifying four Horsemen, who should be causing havoc across Sleepy Hollow. But for some reason they had to be humanized, and basically act like a couple of big babies, which took away from how scary and threatening they should have been.
And the cross over with Bones… Really? A forensic science show, and a fantasy series should never meet.
I would like to see Sleepy Hollow find a way to get back on track, and be interesting once more, because I do believe there is a lot of potential there.