YouTube Favorites
Webseries, vlogs, and more.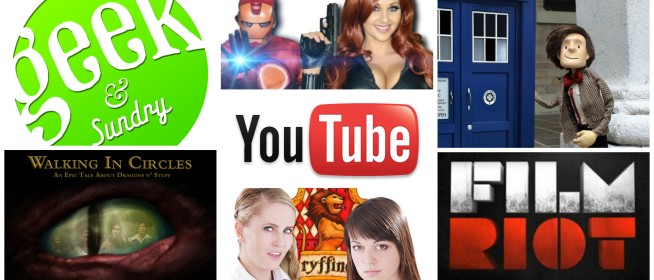 We love watching all kinds of YouTube channels; Informative, entertainment, geek lifestyle vlogs, etc. Here are some things we've been watching lately, a couple of them suggested by a few of our Facebook followers. 
Lifestyle & Entertainment:
Screen Team – They're a fun, geeky couple who love making videos. There's some fun vlgos, and music videos. They recently started creating their own songs, because unfortunately they were having problems with their parody's being taken down.
Not Literally – A couple of girls who are big Harry Potter fans. They make some music videos, and have a series called "Ask Hogwarts".
Lamarr Wilson – He started out as a tech guy, then realized he liked being more of a lifestyle vlogger. He's geeky, crazy, and comes off as very real & down to earth.
Webseries:
Walking in Circles – An epic tale about Dragons N' Stuff! A group of five adventurers led by a barbarian prince start off on their first quest. They soon discover that adventuring isn't quite what they thought it would be. (YouTube description)
Fresh Hell – Comedy series, staring Brent Spiner as a washed up actor.
The Doctor Puppet – A handcrafted fan tribute to Doctor Who. If you're a fan of the long running BBC series, then check out this channel. Well made, and adorable.
Variety Channels:
Geek & Sundry – Lot's of great shows are on here, like TableTop and Space Janitors. Of course they are also home to The Guild.
Geek & Sundry Vlogs – The original channel is more for entertainment, this new one is about geeky vloggers.
My Damn Channel – There's a lot of neat, and funny stuff on here, worth checking out to see what grabs your attention.
Informative:
AWE me – AWE me showcases the amazing feats, wow moments, and fascinating phenomena from the world around us. You really need to check out the Man at Arms videos. Would love to have some of those weapons he crafts!
TWiT Netcast Network – Lots of tech shows, and others (like This Week in YouTube) to enjoy on this channel.
Film Riot – A how-to trip through filmmaking from the hyper-active mind of Ryan Connolly.
There are plenty of other channels that we love to watch, but decided to try and keep the list down a bit. What are some of your YouTube favorites?
Deliveries Kamagra Oral Jelly are conducted almost round the clock but. Next Day Delivery it is convenient not to everyone and therefore to solve to you.