Giveaway: Doctor Who: Tales of Trenzalore Paperback Book (closed)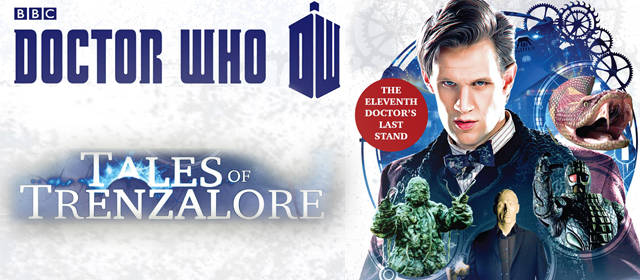 This week we have a giveaway for the paperback book, Doctor Who: Tales of Trenzalore
, from Random House! This book is about The Eleventh Doctor's Last Stand: never-before-told exploits from the Doctor's 900 years protecting the town of Christmas.
As it had been foretold, the armies of the Universe gathered at Trenzalore. Only one thing stood between the planet and destruction – the Doctor. For nine hundred years, he defended the planet, and the tiny town of Christmas, against the forces that would destroy it. 

Some of what happened during those terrible years is well documented. But most of it has remained shrouded in mystery and darkness. Until now.

This is a glimpse of just some of the terrors the people faced, the monstrous threats the Doctor defeated. These are the tales of the monsters who found themselves afraid – and of the one man who was not. 

Tales of Trenzalore collects four of the Doctor's adventures from different periods during the Siege of Trenzalore and the ensuing battle: 

Let it Snow – by Justin Richards
An Apple a Day – by George Mann
Strangers in the Outland – by Paul Finch
The Dreaming – by Mark Morris
Rules:
To enter you must be 18 years of age or older. Giveaway is open globally. No purchase necessary to enter or win. The winner will be chosen randomly using rafflecopter. The contest starts on Tuesday July 8, 2014, and ends on Tuesday July 15, 2014 at 12am.
One winner will be chosen by Wednesday July 16, 2014, and will be notified via email. If there is no response in five days a new winner will be chosen.
Deliveries Kamagra Oral Jelly are conducted almost round the clock but. Next Day Delivery it is convenient not to everyone and therefore to solve to you.