It Came! Graphic Novel Review
From the cold depths of space...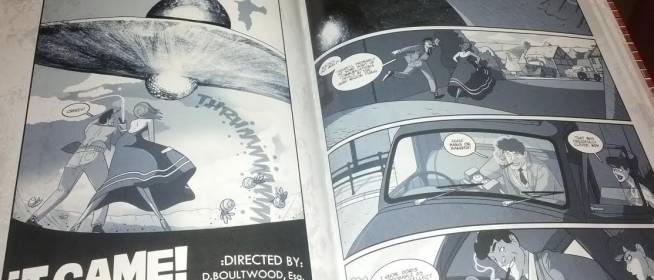 New from Titan Comics, It Came!
, b-movie goodness in graphic novel form. You may not have realized it yet, but you need this in your life.
As a kid one of my favorite weekend activities was to chill out in front of the TV and have a movie marathon, filled with classic, cheesy, science fiction b-movies. They were so bad, they were good, and I couldn't get enough. So I was thrilled to find out about this graphic novel which pays homage to those movies.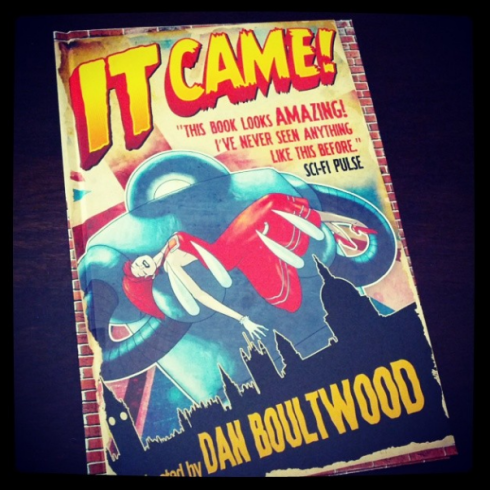 "1958. Driving through the British countryside, unthinkingly misogynistic space scientist, Dr. Boy Brett, and his companion, Doris Night, pop into a quaint village pub for a cheese ploughman's…
But waiting for them outside is a most unwelcome visitor: Grurk, an indestructible, monosyllabic robot from outer space, on a mission to harvest the British Blitz spirit for energy! Pursuing Grurk in their Morris Minor, will Boy and Doris be able to save the British from a life without stiff upper lippedness, or will Her Majesty's Kingdom be forever resigned to a life down in the mouth?"
It Came!
is pure genius, filled with humor, and crazy antics that charmingly play up the b-movie angle in this graphic novel. There are even adverts, movies posters, a 'trailer', and a few other extra goodies that make this feel more like it's really a movie, and not a graphic novel. This has instantly become one of my favorite books, and only makes me want to see more adventures of the 'actors' in their other 'movies'…Because I really want to see what happens in The Lost Valley of the Lost.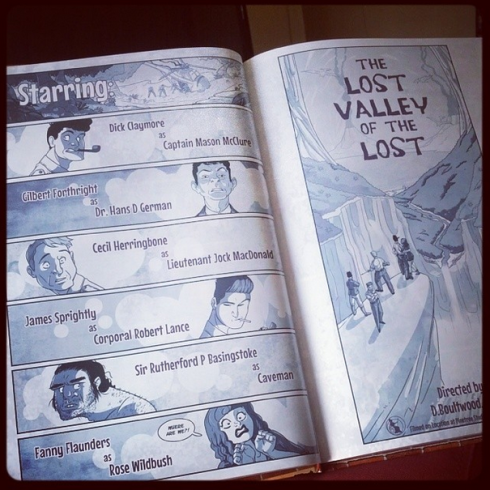 Disclosure: We received this copy from Titan Books for review purposes.
Deliveries Kamagra Oral Jelly are conducted almost round the clock but. Next Day Delivery it is convenient not to everyone and therefore to solve to you.