Game Night: Just Desserts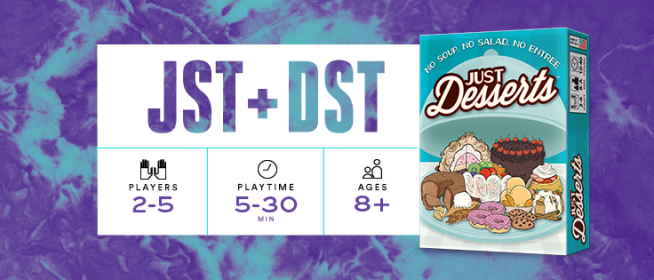 Looney Labs has created a sweet card game all about serving some very picky guests. No soup, no salad, no entree… it's just desserts
! Compete with your fellow waiters to serve guests their favorite goodies before someone else gets to them first. With a kitchen full of mouth-watering offerings, and the cafe filling up with customers, you'll have your hands full making sure everyone gets their just desserts.
Players: 2-5
Playtime: 5-30 minutes
Game Play
The guests are here and they are hungry! Serve them their favorite sweets in this delicious game of dishing desserts. Be the best waiter at the cafe, and make sure all the guests get their Just Desserts
!
At the start of the game each player is dealt out three dessert cards, and three guest cards are flipped over in the middle of the table for you to start serving. The player who most recently served dessert to the group is the one who goes first. On your turn you draw a dessert card, and draw a new guest to put on the table. You have a few options, if you have cards that match the cravings that you see in their 'thought bubbles' then you can take that guest and put them in front of you. If none of the cards in your hand work for the guests you can choose to discard how ever many cards you choose, and replace them from the draw pile, or you can just draw one card to add to your hand. Guest cards also tell you what their favorite dessert is, if you happen to have their favorite you can take a 'tip' (draw a card from the dessert pile).
The guest cards have different colors on the left side, and a cooking symbol, this represents the 'suits'. If at the end of your turn there is more than one guest on the table from the same suit you have to choose one to place in the discard pile. The guest on top of that pile is considered to be 'standing in the door' and players can still serve them.
There are two ways to win the game. Have 3 cards from the same suit, or one card from 5 suits.
We had a lot of fun playing Just Desserts, it's easy to learn, and a great game to play with family and friends. Just make sure to have some sweets on hand, because you WILL start to crave them!
Deliveries Kamagra Oral Jelly are conducted almost round the clock but. Next Day Delivery it is convenient not to everyone and therefore to solve to you.