Gear Review: The Snugg Nexus Case

The Snugg manufactures and sells cases for the latest, and top devices. Such as the iPad, iPhone and Nexus products. 
For about a week now we've been trying out The Snugg Nexus 7 Case in Black Leather
.
Features:
A black premium PU leather case for the Nexus 7.
2 Stand positions.
Cut outs for cameras, buttons and ports.
Automatic Sleep/Wake function.
Their cases are not meant for protecting your item if dropped, but it will definitely cushion the fall, and should keep your device safe. But these cases will keep your devices safe from being scratched up when lugging them around in a bag.
I was pleasantly surprised that the case is actually a bit lightweight, I had expected it to be heavy. Our Nexus fits snuggly inside of it, as expected (hence the name "The Snugg"). I'm also loving that I can use it as a stand, because I quite often have my Nexus propped up in some ridiculous way, so this makes my life with my Nexus a bit easier.
They come on a variety of colors you can choose from to suit your style, and they are reasonably priced.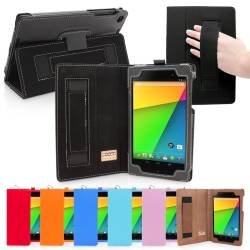 Check out The Snugg Amazon Store
 for more of their quality cases, and follow The Snugg on Facebook & Twitter.
Disclaimer: We received the Nexus case for review, opinions are our own.
Deliveries Kamagra Oral Jelly are conducted almost round the clock but. Next Day Delivery it is convenient not to everyone and therefore to solve to you.