Gen Con 2015: New Board Games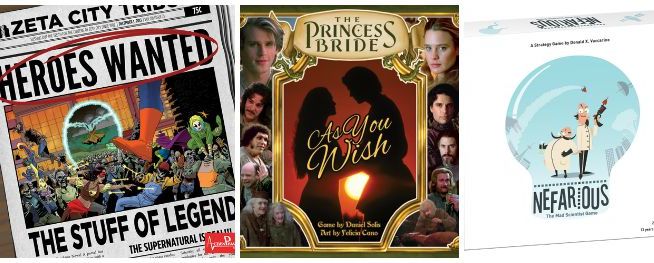 Here is a look at some of our favorite new games from GenCon this year! There is a little bit of something for everyone. What are some of your favorite new game? There were so many amazing games, we will probably have individual posts to focus on some others!
Heroes Wanted : The Stuff of Legend (Action Phase Games)
The Stuff of Legend expands the Heroes Wanted universe as Supernatural and Mythic heroes join the fray, while mechanics such as feats and curses introduce all-new tactics and the price for using them. All that along with even more Heroes, Villains, Quirks, and two new scenarios will add even more variety and complexity to your Heroes Wanted experience. Are you ready to step up and be more than just a hero? Are you ready to become The Stuff of Legend?
Junta (Alderac Entertainment Group)
JUNTA is a game of power, intrigue, money and revolution in a fictional banana republic. It is everything but nice: The players lie, betray each other, embezzle, and assassinate the members of the other families to transfer millions of Pesos of foreign aid money to their bank accounts – which are conveniently located in Switzerland.
Arcadia (APE Games)
Step right up and play APE's new card game of theme park construction. Compete with fellow park owners to build the amusement park of your dreams. Hire builders, inspectors, and other professionals to add rides, shows, midway attractions and shows.
!Experts in various fields can get attractions built even faster. Start with a simple teacup ride and add charming carousels, roller coasters, acrobats, shooting galleries, and even a Meet the Characters restaurant!
Princess Bride: As You Wish (Game Salute)
A Princess Bride game where decisions will need to be made if you're to tell the story of your true love. Each player drafts their cards in a bid to collect sets of icons, all dependent on the desires and needs of the character drawn at the start of a round. The more icons on your group of cards, the more points you'll pull in at the end of play, but beware – some of them are poisoned and can cause you to lose them! As You Wish is a surprisingly tricky game that will keep you on your toes for the duration of play!
Nefarious (USAopoly)
Nefarious The Mad Scientist game is a strategy game by Donald X. Vaccarino. You are a mad scientist attempting to destroy the world. To do so, you must build terrifying inventions which require research, hard work, and espionage. Unfortunately for you, other mad scientists are trying to steal your evil glory by destroying the world first. Overtake your rivals and become the most notorious mad scientist in history!