Indy Pop Con 2014: Events & Guests
One con to rule them all!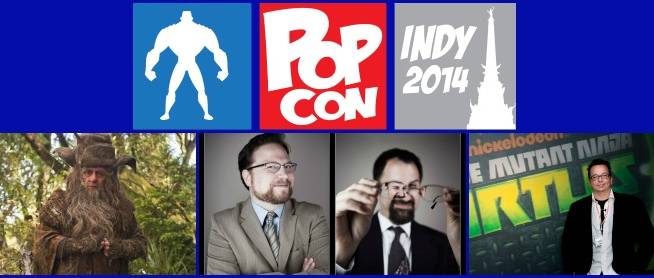 Indy PopCon will be here before you know it, so we wanted to do a post highlighting a few things that we thought you might enjoy (and entice you to go, if you're not already).
Indiana's largest pop culture and comic con has grown in size by adding an additional convention center hall in order to accommodate anticipated crowds of more than 15,000.  Indy PopCon, held May 30 – June 1 in the Indiana Convention Center, now boasts over 200,000 square feet of usable space for comic books, collectibles, board and video gaming, fantasy exhibits, vendors, and more. 
Guests:
You can see some of your favorite celebrities, voice actors, musicians, internet personalities, cosplayers, comic creators, and more. make sure to check their site for all the guests, but here are a few to look forward to…
Celebs:

Sylvester McCoy (The 7th Doctor on Doctor Who, Radagast the Brown from the Hobbit)
Nicholas Brendon (Xander on Buffy the Vampire Slayer)
Kristian Nairn (Hodor on Game of Thrones), and Esmé Bianco (Ros on Game of Thrones)
Kandyse McClure (Anastasia Dualla on Battlestar Galactica, & Dr. Clementine Chasseur on Hemlock Grove)
Ron Glass (Shepherd Book on Firefly)
Voice Actors:
John DiMaggio (Adventure Time, Futurama), and Eric Stuart (Pokemon, Yu-Gi-Oh, Slayers)
Musicians:
Paul & Storm – Their music has appeared on pretty much every type of media that exists, they are co-founders and producers of the storied nerd variety show w00tstock, and they have had their guitar smashed by George R. R. Martin followed by a Neil Gaiman scolding.
Five Year Mission – The five seasoned musicians who comprise indie rock band Five Year Mission were brought together by their mutual love of sci-fi. Their mission: write and record a song for every episode of the original Star Trek series from the 1960′s.
Harp Twins – This dynamic rock Harp Duo is recognized internationally for their remarkable duet harp arrangements and performances of songs by artists such as Guns N' Roses, Iron Maiden, Led Zeppelin, Metallica, Aerosmith, AC/DC, The Rolling Stones, and many more. The twins also arrange and perform a jukebox of TV and Movie Soundtrack, Anime, and Video Game hits including Game of Thrones, The Walking Dead, The Elder Scrolls, Final Fantasy, Star Trek, Doctor Who, Zelda, Mario, Silent Hill, Harry Potter, Saint Seiya and The Lord of the Rings.
Respawn Point:
If you're a gamer, video and/or tabletop, you will want to check out Respawn Point, with a 24 hour gaming hall (open from Friday though Sunday). You can play, compete, and learn various games. Some games available to play include; Octodad: Deadliest Catch, Astral Terra, Heroes Wanted, Incredibrawl, and more.
Special guests: Patrick Scott Patterson, and Wade Lordminion777.
Free Head Sketches:
Val Mayerik is an American comic-book and commercial artist, best known as co-creator of Marvel Comics' satiric character Howard the Duck and a contributing artist to Conan the Barbarian, Dungeons and Dragons, and Magic: The Gathering.
Norm Breyfogle has worked on several landmark titles including Detective Comics, Batman, Prime, Metaphysique, and Anarky.
Panels & More:
They have all kinds of panels to sit in on, cosplay, gaming, comics, and more. The ones listed below are just a few panels that stood out, you can find more on their schedule!
Nicholas Brendan Q&A, Friday at 5:00pm. What's Xander from Buffy the Vampire Slayer up to now?  Ask him yourself and find out!
Riffing Myself: Joel Hodgson's One Man Show, Friday at 6:00pm. Join Joel Hodgson as he riffs his favorite topic – himself! He will take you through his career and how he started Mystery Science Theater 3000 in a fun and entertaining way.
Kandyse McClure Q&A Panel, Saturday 1pm. Meet THE Dualla from the hit show Battlestar Galactica, Kandyse McClure!  Ask her about her time on the show, her experiences with werewolves in Hemlock Grove, or her new projects!
Game of Thrones Panel, Saturday at 4pm. Join two fan favorites from the cast as Esme Bianco (Ros) and Kristian Nairn (Hodor) share the stage, and their stories from Game of Thrones.
Ron Glass Firefly Q&A, Saturday at 5pm. Meet the great Shepherd Book from Firefly, Ron Glass!
Sylvester McCoy Q&A Panel, Saturday at 6pm. There are no details at this time, but we will be there, because…Doctor Who.
Kevin Eastman Q&A and Fan Panel, Sunday 10:30am. Meet with the creator of Teenage Mutant Ninja Turtles, the great Kevin Eastman!  Ask him about how he thought up such a zany concept and what he's working on today.
Teen Wolf Panel with Keahu Kahuanui, Sunday 2pm.
Voice Actors Panel with John DiMaggio, and Eric Stuart, Sunday at 3pm. What is life as the voice behind the scenes?  Find our from John DiMaggio and Eric Stuart, two professional voice actors whose credits include Adventure Time, Futurama, Pokemon, Yu-Gi-Oh, Final Fantasy, and several other awesome shows, games, and movies you know and love!
The WhoNAtion Experience: Where YOU Take Part in an Exciting Adventure through Time and Space!
There are a lot more, too much to cover in one post. What are you waiting for? Get those tickets, and come join us in Indy for all the awesome geekery at the inaugural PopCon!
Deliveries Kamagra Oral Jelly are conducted almost round the clock but. Next Day Delivery it is convenient not to everyone and therefore to solve to you.