April 2014 Loot Crate: Dragon (Review)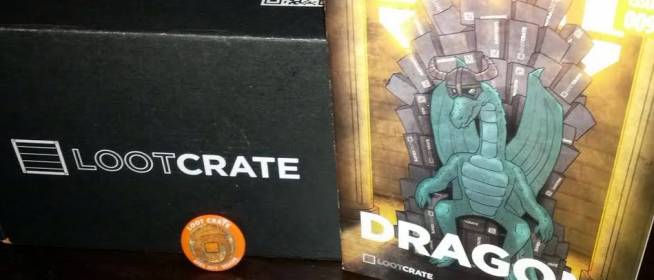 This months loot crate theme was called Dragon, they revealed it would have an exclusive Elder Scrolls Online item, and a Game of Thrones item. So of course I was excited.
Not familiar with Loot Crate? Check out my original post about them!
This month's box was smaller than normal, so the mini magazine didn't quiet fit inside, but that's OK because it wasn't damaged.
Inside April's Loot Crate:

Click the image to enlarge for more detail
Game of Thrones Mystery Mini
 – I keep meaning to buy these, but for some reason never do. Sadly the figure I got (Joffrey) was one of the ones that I least wanted, but he's still cute!
Elder Scrolls Online Exclusive Figure – The Nord, he is so adorable! I think they said this is something that will be available in the future for anyone to purchase, but it is currently exclusive to this crate.
20 Sided Stress Dice – I've been meaning to get some sort of stress ball, so this is actually pretty neat to have.
20 Sided Polyhederal Dice
– Every geek should have a D20. I will keep it on me at all times, so I can use it in case of emergency. It happens. Sometimes I'm just like, "If only I had a d20 on me, then I could totally work this out.". True story.
Dragon Slayer Tag – Neat tag, has an image of a dragon, and marks crossed off showing how many dragons I have slain…Cause I'm a dragon slayer. Obviously.
Dragon Shield Screen Cleaner – I love this screen cleaner, it works well, and I also love the design that loot crate came up with.
Dragon Jerky – It was green, and I was almost afraid to eat it. The jerky actually wasn't bad, and it wasn't tough like most jerky.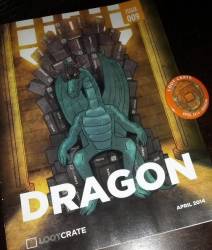 The value of the crate is usually around $30 – $40 (the box costs only $20 a month). Overall I do like this box, but it didn't seem to reach the same value as past crates.
Subscribe to LootCrate!
Deliveries Kamagra Oral Jelly are conducted almost round the clock but. Next Day Delivery it is convenient not to everyone and therefore to solve to you.