FCBD Haul 2014: Red Giant Comics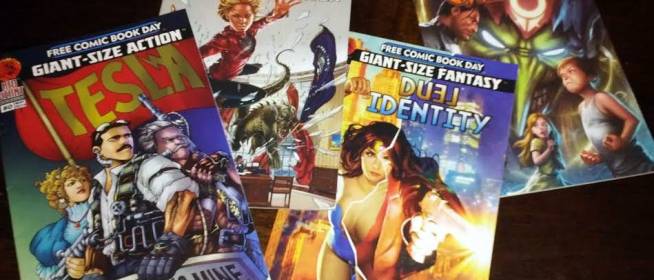 Like many of our fellow comic book fans we headed out on the first Saturday in May to get all the free comics that we could.
One of our finds was from Red Giant Entertainment. A packaged set of 4 comics, smaller than regular sized ones. They are also 'flip books', so there are 8 stories total.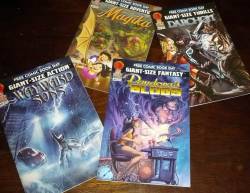 Tesla (action) – At the turn of the century, Nikola Tesla and his trusty side-kick, Mark Twain, join forces to battle the Illuminati, led by the nefarious Thomas Edison
Wayward Sons (action) – A spin-off to "Wayward Sons" the legendary webcomic series follows the adult children of beings who were once worshipped as Gods.
The First Daughter (adventure) – the President's daughter learns her destiny when she is pulled into a secret, supernatural enclave beneath the White House.
Magika (adventure) – A young boy discovers a magical world filled with strange mystical creatures who come into our world through a mound in his grandparents' backyard.
Duel Identity (fantasy) – The world's greatest superhero is actually the world's greatest assassin.
Pandora's Blogs (fantasy) – follows a young girl who moves to a new town, and blogs about the strange things she sees, receiving some unwanted attention as a result. 
Darchon (thrills) – introduces a dark world of supernatural threats that can only be handled by one man – but is he what he claims to be?
Shadow Children (thrills) – When children are brought to another realm and acquire supernatural powers to become members in an army of darkness, they are the "Shadow Children".
I found all of these stories interesting, each in their own way. One of my favorites was probably Tesla, with it's steam punk feel, and having, well, Tesla, Twain and a kick butt female character. Shadow Children definitely has my interest, I'm not sure what it was, but I'd like to explore that story more. Overall, a really nice selection of comics from Red Giant.
(We will have more posts covering some of our favorite comics from this years FCBD)
Deliveries Kamagra Oral Jelly are conducted almost round the clock but. Next Day Delivery it is convenient not to everyone and therefore to solve to you.