FCBD Haul 2014: Superhero Comics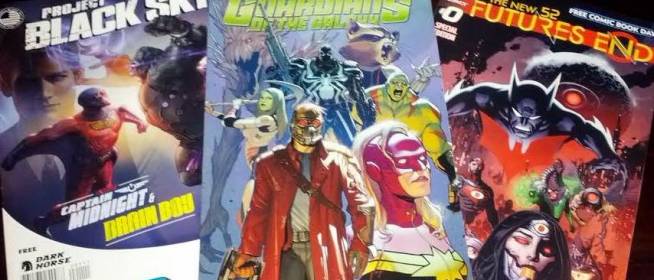 Superhero comics were one of my favorites as I was growing up, so I always look forward to what is on offer during Free Comic Book Day.
Teen Titans GO! #1 (DC) – Join Robin, Starfire, Beast Boy, Cyborg and Raven as they display their unique brand of hi-jinks, mayhem and justice! But giant pizza monsters aren't the only dastardly and delicious villains on the menu… so dig in, Titans! Includes two exciting, action-packed stories that readers of all ages will enjoy! 
This comic is, of course, based on the new cartoon. As expected it was filled with the silliness, and fun you would come to expect from Teen Titans!
The New 52 Futures End #0 (DC) – Jump on board DC Comics' epic weekly series beginning with this all-new FCBD issue that features tomorrow's Dark Knight, Batman Beyond (making his first appearance in The New 52), battling an army of cyborgs to avert an Apocalypse in the future which could destroy the DC Universe of the present! But that's not all; there are still more surprises to come. Stay tuned for more details! 
Futures End left me wanting more, just might have to pick this one up out when it hits comic shops. Issue #1 comes out on 5/7.
Guardians of the Galaxy (Marvel) – In an all-new story by award-winning writer Brian Michael Bendis and acclaimed artist Nick Bradshaw, the Guardians of the Galaxy welcome Venom and Captain Marvel to the team for the launch of a not-to-be-missed death-defying epic! PLUS: Writer Dan Slott lays the foundation for 2014's top secret Spider-Man event that will rock the Wall Crawler's world forever! 
Guardians of the Galaxy will hit theaters this year, so of course this is a great time to release a new comic. It will be in comic shops this August.
Rocket Raccoon (Marvel) – Spotlighting Marvel's BIGGEST star! No, we're not talking about Iron Man! Not Captain America! Not Thor! It's Rocket Raccoon! The madcap mammal takes on the cosmos in an all-new FCBD adventure! 
Fun and entertaining. Rocket is not your average hero, which is why we love him.
Project Black Sky (Dark Horse) – When a biological weapon is hijacked from a secret facility in Nevada, the president calls in two of his top guns: Captain Midnight and Brain Boy! Will the two disparate heroes, a time-displaced inventor from World War II and a snotty psychic Secret Service agent, be able to work together to stop the threat released from Block 13? And what does the mysterious rogue agency Project Black Sky have to do with it?! 
Entertaining, and a bit of a different take than your average superhero stories. I definitely enjoyed Project Black Sky!
Deliveries Kamagra Oral Jelly are conducted almost round the clock but. Next Day Delivery it is convenient not to everyone and therefore to solve to you.