Hulu Originals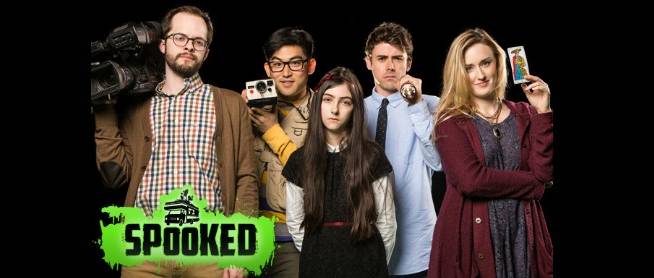 Are you looking for something to watch this Summer? We recently wrote a post about new (geeky)  TV shows for the season, but there really were not many of those. So we found some interesting stuff over on Hulu that we thought you might enjoy.
Hulu has more originals, but these are just a few we recently discovered and have been enjoying. Two of them are from Felicia Day's Geek & Sundry! Not all of these are new, but if you haven't seen them before they are worth checking out, and are a fun way to fill in some of your down time this Summer.
Abby Miller (Justified), Beth Riesgraf (Leverage), Harry Shum Jr. (Glee), and Hartley Sawyer (Glory Daze) star as a quartet of superheroes who struggle to save the world, and make the rent, in this series created by Amy Berg (Eureka) and Mike Sizemore.
Spooked is about a ragtag group of ghost hunters, comprised of their leader Connor (Julian Curtis), occult specialist Morgan (Ashley Johnson), tech aficionado Lindsey (Neil Grayston), fanboy Elliot (Derek Mio) and their secret weapon Piper (Shyloh Oostwald) who can actually talk to ghosts. Produced by Bad Hat Harry (X-Men: Days of Future Past) and Geek & Sundry.
"Strange Calls", these moments of midnight madness reveal the bizarre truth of the town – a place where people turn into chickens, mermen go the school dance and a mysterious radio jingle can transform you into a lawn mowing zombie.
From the comedic minds of Seth Meyers (Saturday Night Live) and Mike Shoemaker (Late Night with Jimmy Fallon) comes THE AWESOMES, a new animated show for adults about the greatest superhero team ever after all the good members quit. Showcasing the voice talents of current and past SNL stars, THE AWESOMES introduces a group of not-so-super heroes who just might find a way to save the world.
Deliveries Kamagra Oral Jelly are conducted almost round the clock but. Next Day Delivery it is convenient not to everyone and therefore to solve to you.