International TableTop Day 2014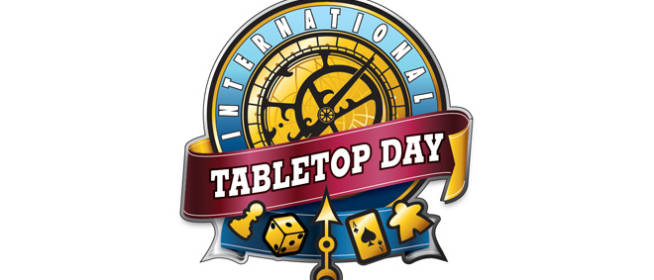 The second annual International TableTop Day is coming up on Saturday April 5th! We will be hanging out at one of our local gaming rooms. What will you be doing?
You don't have to be a hard core gamer to enjoy tabletop day, so here are some fun, mostly simple, games you might want to check out, and play for TableTop Day.
Dice Games:

Zombie Dice
(2-8 players), or Cthulhu Dice
(2-6 players) – Both of these games are the same type of mechanic. They are fun, easy, and quick (5-10 minutes).
IceDice
– Fast-playing, east-to-learn dice game with great press-your-luck action that'll keep you playing over and over again.
Farkle
– Take a risk and keep rolling to build your score. Or play it safe so you don't lose your points in a Farkle. It's a fight to the finish in this fabulously fun game of strategy and luck.
Rory's Story Cubes
 – This is a pocket-sized creative story generator, providing hours of imaginative play for all ages. With Rory's Story Cubes, anyone can become a great storyteller and there are no wrong answers. Simply roll the cubes and let the pictures spark your imagination.
Card Games:

Fluxx
 (2-6 players) – The ever changing card game! It's a lot easier than it sounds, and tons of fun to play. They also have some fun themed versions of the game, such as Star Fluxx
, and Cthulhu Fluxx
.
Gloom
 (2-4 players) – In this game you assume control of the fate of an eccentric family of misfits and misanthropes.
Apples To Apples
– It's as easy as comparing apples to apples… just open the box, deal the cards, and you're ready to play.
IncrediBrawl
 (2-4 players) – In this game each player guides a colorful cast of characters from all corners of our collective imagination as they meet in an epic clash for glory!
Cards Against Humanity
 – Always fun with a large group of people!
Board Games:

Some of these board games might be a bit more difficult, but they are still a lot of fun to learn and play!
King of Tokyo
 (2-6 players) – (Considered more of a dice game) In this game you will be able to play mutant monsters gigantic robots and other aliens all of whom are happily whacking each other in a joyous atmosphere in order to become the one and only King of Tokyo.
Ticket To Ride
 (2-5 players) – October 2, 1900 – it's 28 years to the day that noted London eccentric, Phileas Fogg accepted and then won a bet that he could travel "Around the World in 80 Days." Now, at the dawn of the century, some old friends have gathered to celebrate Fogg's impetuous and lucrative gamble – and to propose a new wager of their own. The stakes: $1 million in a winner-takes-all competition. The objective: to see the most cities in North America – in just 7 days.
The Settlers of Catan
 (3-4 players) – This is a strategy game where players collect resources and use them to build roads, settlements and cities on their way to victory. The board itself is variable, making each game a little different from the next. There's also Star Trek Catan
.
Firefly: the Game
 (1-4 players) – Players captain their own Firefly-class transport ship, traveling the 'Verse with a handpicked crew of fighters, mechanics and other travelers. As a captain desperate for work, players are compelled to take on any job – so long as it pays. Double-dealing employers, heavy-handed Alliance patrols and marauding Reavers are all in a day's work for a ship's captain at the edge of the 'Verse.
Star Wars X-Wing Miniatures Game
– (Technically not a 'board' game) Control the most advanced starfighters and outstanding pilots in the galaxy. In the X-Wing Miniatures Game, you take the role of squad leader and command a group of merciless Imperial or daring Rebel pilots in furious ship-to-ship space combat.
Deliveries Kamagra Oral Jelly are conducted almost round the clock but. Next Day Delivery it is convenient not to everyone and therefore to solve to you.