Numbercruncher Graphic Novel

Coming soon from TitanComics: Numbercruncher (hardcover graphic novel), written by Si Spurrier (X-Men Legacy), and illustrated by P.J. Holden.
About:
Dying young, a brilliant Mathematician, Richard Thyme, enters the afterlife and discovers a way to cheat the terrifying Divine Calculator, who wants Thyme working for him. He schemes to be endlessly reincarnated within the lifespan of the woman he loves, no matter how often the violent Bastard Zane, agent of the Karmic Accountancy, cut-short each life. Zane has a personal stake in this, because Thyme would be his replacement, which means Zane would be able to move on from his tedious job working for the Divine Calculator.
Will Thyme be able to keep outsmarting Zane, or will he finally miscalculate and get stuck at the Karmic Accountancy? Or maybe there's a whole other outcome?
Thoughts:
Reading the description for Numbercruncher
I thought it sounded interesting, but I wasn't really sure what to expect from it. Turns out this is one of the more interesting graphic novels I've read in awhile. I also liked that they chose to have all the afterlife stuff in B&W, and the living world in color.
Numbercruncher is bizarre, intriguing, entertaining, and has a few twists and turns that you won't expect. If you like a bit of supernatural, and a story that will make you want more, you should give this one a try.
Numbercruncher
will be released on January 15, 2014.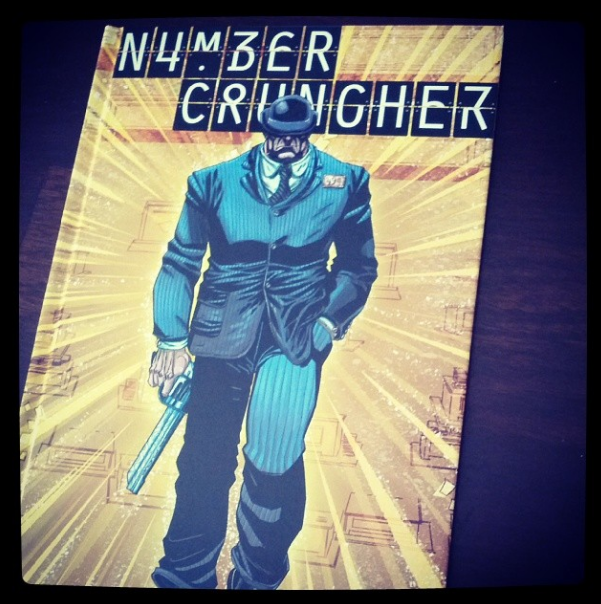 Disclosure: We received this copy from Titan Books for review purposes.
Deliveries Kamagra Oral Jelly are conducted almost round the clock but. Next Day Delivery it is convenient not to everyone and therefore to solve to you.