The Dresden Files Book Series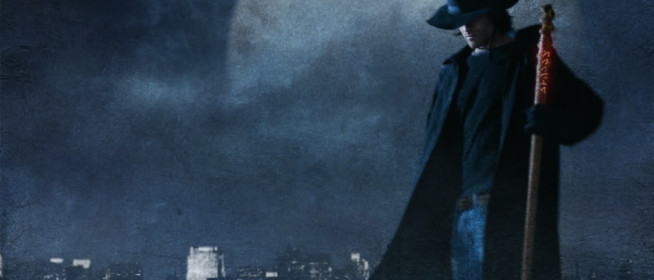 So the newest Dresden Files book recently came out, Cold Days, and I just tore through it like I do all Dresden books really. I love this book series, it really is fraking awesome. So I thought I might take some time to talk about why I love Dresden Files, and why you should too.
Why I love The Dresden Files
Well let's see, we've got modern day setting, a secret underworld of all the monsters and creatures that we know about, though not quite the same as you'd expect. Wizards, fairies, vampires, werewolves, and more, they're all here.
That's all well and good, but what I really like is the story and how it's told. All the books are a first-person narrative, Harry Dresden himself is basically retelling this story to you.
Jim Butcher's writing, for me anyway, really gets my imagination going. It's the kind of writing that lets me kind of play the book in my head as a movie while I'm reading it, which I really like. And I really do wish they'd do an awesome movie series out of this.
I should mention that I discovered Dresden through the Dresden Files tv show that was on Scifi channel a while back, and while that was pretty decent, after reading the books I say it really should be a movie series. Give it a big budget treatment in the realm of Harry Potter or Lord of the Rings and I'll be the first in line begging for the theater to take my money.
And the story is freaking epic. It really has become this epic thing, and you wouldn't really know that from the start. It's kinda like how Babylon 5 started, quite slowly at first, low level stuff, but as you move through the books, this story unfolds and you find that it really is a series, things are connected, past events are referenced. I'm actually wanting to go back and start the series over again to re-familiarize myself with the older stuff.
I was actually thinking I may start listening to the audio book versions. They're narrated by James Marsters, you know, Spike from "Buffy"! I've heard really good things about the audio book quality, so this is the perfect chance to check them out. Plus, I've never 'read' an audio-book of anything before. So I was thinking I'd check it out on audible.com
, I've seen they at least have Storm Front
there.
So there you go, go read The Dresden Files, start with Storm Front, I'm sure you'll like them!
Deliveries Kamagra Oral Jelly are conducted almost round the clock but. Next Day Delivery it is convenient not to everyone and therefore to solve to you.