2013-2014 TV Shows for Geeks
What new shows will you be watching?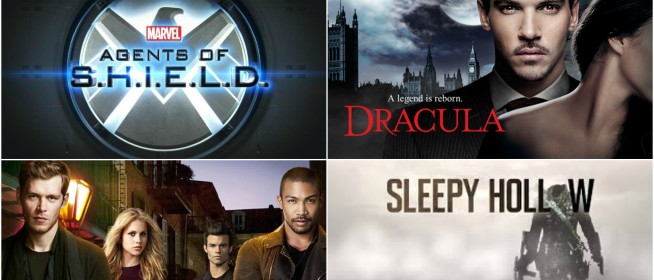 2013-2014 new TV Shows for geeks (on basic cable)!  Check out the trailers in the post, and let us know what shows you're looking forward to, also let us know if we forgot anything.
ABC:
Agents of S.H.E.I.L.D. – We can't wait to see this!
Resurrection – The people of Arcadia, Missouri are forever changed when their deceased loved ones suddenly start to return.
Once Upon A Time in Wonderland – In Victorian England, the young and beautiful Alice tells a tale of a strange new land that exists on the other side of a rabbit hole.
NBC:
Dracula – Let's hope they do this right, because it could be pretty awesome.
Believe – A young girl who posses powers, such as levitation, telekinesis, the ability to control nature, and predict the future.
Crossbones – Click on the name to learn more about this show, there's no trailer at the moment. But it's about pirates, and I happen to like pirates.
CW:
The 100 – Ninety-seven years after a nuclear war has destroyed civilization, a spaceship housing the lone human survivors sends 100 juvenile delinquents back to Earth to investigate the possibility of re-colonizing the planet.
The Originals – A spinoff of the CW's The Vampire Diaries revolving around the Original family in New Orleans.
Star-Crossed – Passion and politics threaten the peace and an epic romance ignites between a human girl and an alien boy when he and eight others of his kind (The Orion 9) are integrated into a suburban high school ten years after they and hundreds of others landed on Earth and were immediately consigned to an internment camp where they've been imprisoned ever since.
The Tomorrow People – Based on the U.K. series created by Roger Price, the drama tells the story of several young people from around the world who represent the next stage in human evolution, possessing special powers, including the ability to teleport and communicate with each other telepathically. Together they work to defeat the forces of evil.
FOX:
Sleepy Hollow – A modern day retelling. Ichabod Crane comes back to life 250 years in the future.
Almost Human – This action-packed police drama set 35 years in the future centers around the unlikely partnership between a part-machine cop and a part-human robot. Staring Karl Urban.
http://youtu.be/ykwxg534yAw
Deliveries Kamagra Oral Jelly are conducted almost round the clock but. Next Day Delivery it is convenient not to everyone and therefore to solve to you.