Book Review: Monster Massacre Vol.1
"Zombies! Babes! Vampires! Dinosaurs! Cthulu!"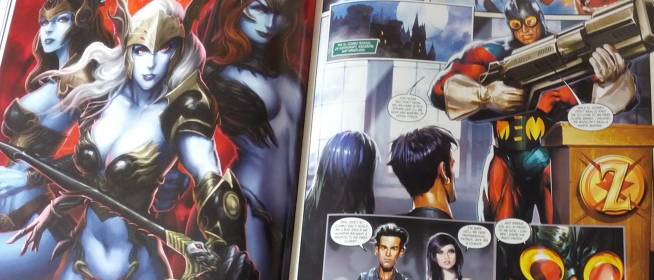 Titan Comics bring us a collection of 10 great monster stories from various comic book talents. Some who I'm sure you already love, and others you're sure to love once you see their work in this volume of Monster Massacre
. 

Included in this Volume:
"The Angel of Death" – From the creators of Captain America, a classic Simon & Kirby horror story.
"Ira Gerschwin Monster Puncher" – by Andy Kuhn (Firebreather, TMNT).
"Hitch" – a post apocalyptic zombie story by Dave Dorman (Star Wars, Indiana Jones).
"Bandits" – a macabre black comedy by Mark A. Nelson (Aliens).
"Pair of Rogues" – A Faery and a Human team up to con everyone, by Ron Marz (Shinku, Sliver Surfer, Green Lantern) and Tom Raney (The Authority, Avengers).
"Daikaiju" – Dragons destroy Japan. by Vito Delsante (Scooby-Doo) and Javier Aranda (Star Trek, Marksmen).
"El Zombo" – Guest-starring Sharky and Mr. Monster, by Dave Wilkins (El Zombo, Batman: Arkham Asylum, Masters of the Universe) and Dave Elliott.
"Deep Six" – day one of the return of Cthulhu. By Jerry Paris, Arthur Suydam and Dave Elliott.
"Sharky" – The novice hero and Thor face Alvin the Dwarf and Devlin the Giant Lice, by Dave Elliott and Alex Horley (Sharky, Lobo, Blizzard).
"Little Monsters" – A prologue to the graphic novel Kingdom of the Wicked by Ian Edginton (Scarlet Traces, Leviathan, Victorian Undead) and D'Israeli (Lazarus Churchyard, Sandman).
Plus art galleries from Alex Horley and Steve White.
If you're a World of Warcraft fan you might notice a familiar image in the Alex Horley art gallery…
My Thoughts:
This collection is filled with a range of monster stories, from some great comic book talents. The stories vary between classic horror, macabre, creepy, and even amusing. All the different art work is amazing, and wonderful to look at, you'll want to take your time and soak in all the awesomeness. If you're a fan of horror and monsters you will enjoy having this in your collection!
It's also perfectly timed for the season, next month we have Halloween, and of course we all love monster/horror stories around this time of year!
Monster Massacre Vol.1
 goes on sale September 10, 2013
Disclosure: We received this copy from Titan Books for review purposes. Opinions are our own.
Deliveries Kamagra Oral Jelly are conducted almost round the clock but. Next Day Delivery it is convenient not to everyone and therefore to solve to you.