Comic Review: The New Amazons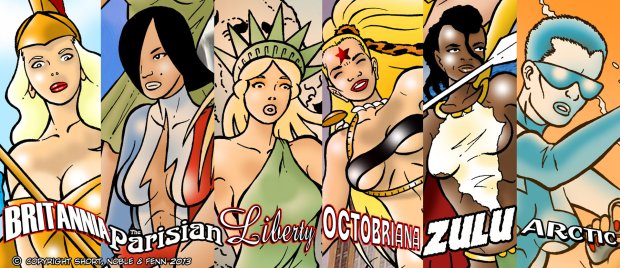 The New Amazons is a comic written by John A. Short and illustrated in full color by Gabby Noble (Savage! Jungle Princess/Spliffy: The Stoner Chick!).

About:
(from the press release)
The New Amazons is a new superhero team comic featuring the return of cult underground comic character Octobriana!

This public domain Russian superwoman was created in the early seventies and featured in the legendary Octobriana and The Russian Underground book. You may know her from her appearance in Bryan Talbot's The Adventures of Luther Arkwright.

The Russian She-Devil is joined by other super-women from around the global (like Britannia and America's Liberty) to fight the ultimate super-villains… including (in the new Preview Special) Vladimir Putin!

Written by John A. Short (Armageddon Patrol/The Sixpenny Murder) and illustrated in full colour by Gabby Noble (Savage! Jungle Princess/Spliffy: The Stoner Chick!)

The Preview Special features an exclusive comic strip adventure that will not feature in the forthcoming Graphic Novel.
This was actually a lot of fun to read, and it somehow gave me an 80s vibe, which is a good thing. If you're looking for some fun, kick butt female superhero action, then you should check out The New Amazons!
You can get it from the Kult Creations blogsite: http://kultcreations.blogspot.com/
Deliveries Kamagra Oral Jelly are conducted almost round the clock but. Next Day Delivery it is convenient not to everyone and therefore to solve to you.