Free Comic Book Day 2013
May the Fourth be with you!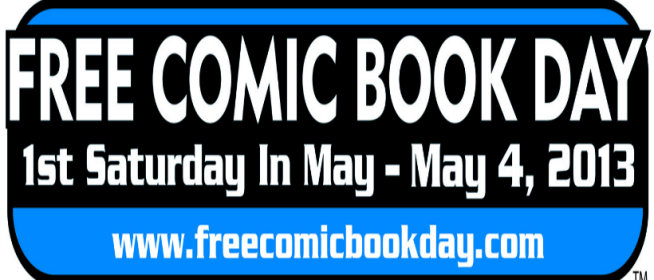 It's Free Comic Book Day! What did you get? We had originally planned on going to at least a couple of places, but we only had enough energy for one. Just didn't get enough sleep, and wanted to try and reserve some energy to go to the movies later.
We stopped by the place closest to us, Comic Book University. There was a long line (which moved fairly fast), and free pizza, thanks to Iron Man 3 sponsor Red Baron Pizza. They also had Topps & Cryptozoic trading card artist Jason Keith Phillips doing original one-of-a-kind sketch commissions, I wish I had one done, but we were so wiped out. We're pathetic. Three of us were there, so we ended up with a total of 15 free comics, plus we actually bought a couple of things, because there were sales. We love sales. Especially when one of those things on sale is a Garrosh Hellscream figure that is selling for around $60-$100 online, but we only spent $32 for it at the comic book store.
How many places did you stop at for free comic book day 2013? Did you take advantage of any deals, other than freebies?
Deliveries Kamagra Oral Jelly are conducted almost round the clock but. Next Day Delivery it is convenient not to everyone and therefore to solve to you.