Geek Fashion: Spring Gear
Geeky springtime fashion to help stay cool.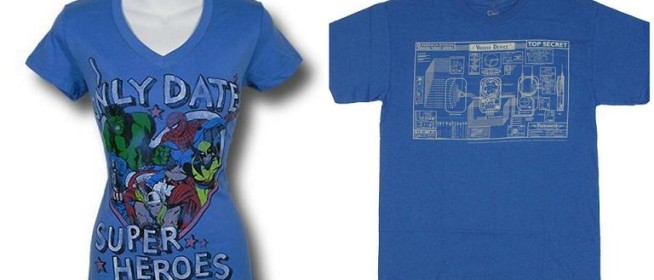 This week in Geek Fashion we're focusing on Springtime. It's getting warmer out, and for me that means it's time for lighter clothes, and softer colors. But still geeky, of course.
I found some Supergirl Drawstring Crop Pants that would look cute with a Supergirl T-Shirt. They also had some Batgirl crop pants, but sadly those are sold out (I really wanted them). There needs to be more of things like those crop pants.
It's not always easy to find light colored geeky tee's, a majority of them seem to be black and dark blue, but there are lighter colors. Like the awesome Lego Star Wars Tee, and the Marvel Explosion T Shirt.
Shown in featured image at the top of the page:
I Only Date Superheroes Womens T-Shirt
Warehouse 13 Blueprint T Shirt
Deliveries Kamagra Oral Jelly are conducted almost round the clock but. Next Day Delivery it is convenient not to everyone and therefore to solve to you.