Hallow's End
Trick or Treat, World of Warcraft style.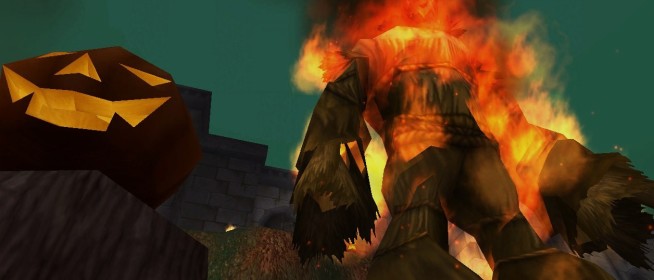 It's that time of year again in Azeroth where you can get all kinds of goodies from the inn keepers, kill the headless horseman and wear different costumes with the help of wands, trick or treat buckets, or your imagination.
This is when I get a lot of whispers asking how my toon looks like this…
I came up with this idea years back, it all started when I was questing in Outland. On one of the quest turn ins the gear kinda sucked for me, but I noticed that one of them was called skywitch hat, and it (obviously) looked like a witches hat. That's when it hit me! I could make a witch costume in the game for Hallow's End. Oh, and this was many, many months before the event, evidently I like to think ahead.
For a few years I had her wearing a simple black dress with the hat, until last year when I decided to make her look like the 'witches' who are in game for the event. So I jumped on my alt, who is my tailor, and made black mageweave robes.
She has other costumes I put together for her, cause I'm weird like that, and happen to love Halloween related things, even in games. But the witch one is my favorite, especially when she can fly around on a broom stick with her feline familiar by her side.
Deliveries Kamagra Oral Jelly are conducted almost round the clock but. Next Day Delivery it is convenient not to everyone and therefore to solve to you.