Walking In Circles at Gen Con 2013
Walking in circles, again and again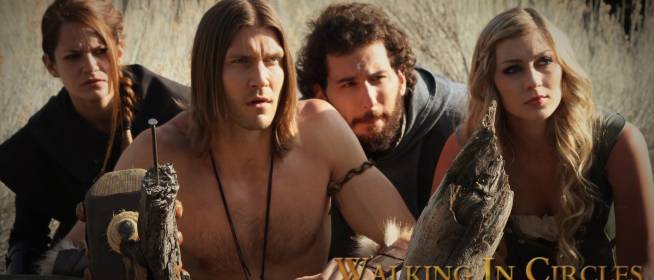 Today at GenCon we attended a screening for season two of Walking in Circles. It's a medieval comedy webseries, the story follows the journey of a Barbarian Prince, and his fellow (misfit) adventures.
If you're not familiar with this YouTube series then head over and check out Season One. It's a lot of fun, and it only gets better in season two.
As we made our way around the convention center on Thursday we found some of the guys from Walking in Circles roaming around. They had Krag with them, and let's face it, you're kind of noticeable when walking around with a barbarian…
I asked Adam (Markus) about one of the characters, Alex. He managed to about her, without answering my question. They basically all started acting a little weird at that point. That's when I realized I stumbled on something that was a secret, and would have to wait until I saw season two.
We loved the first season of this series, and after viewing the second season we were surprised to find that it was even better. There's more action, magic, and humor. Then there's the mysterious, silent assassin, Alex…aaaaand that's all I'll say on that subject (watch the show, and you'll understand). It's such a well done series, and everyone involved (in front of the camera & behind) work really hard to make it happen. You're seriously missing out if you haven't seen it yet!
There was a panel/Q&A with the cast & crew after the screening, so check out the panel recap below…
Season 2 was set to be release at the end of the month, but has been pushed aside for the moment. To make the show possible they counted on fan support, and money out of their own pockets (I think Adam Rady might go broke for WIC), and they really want to make more. I certainly would love to see a season three. Plus, I need to find out more about Alex. So go watch, and spread the word!
You can catch the second season on August 27, 2013 during a live stream, starting at 8pm PST/11pm EST.
Season Two trailer:
Firefly fans will see a familiar face in season two; Monty, from the Firefly episode 'Trash'. He's Krag's grandfather, Draxx!
Check out Walking in Circles on facebook, twitter & YouTube!
Deliveries Kamagra Oral Jelly are conducted almost round the clock but. Next Day Delivery it is convenient not to everyone and therefore to solve to you.