Gen Con 2013 Wrap Up
Roll for initiative!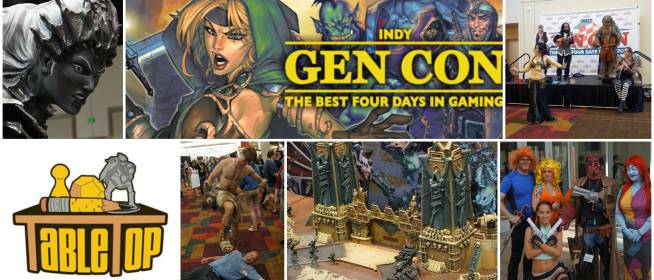 Once again Gen Con, the best four days in gaming, has come to an end. The buzz and excitement of the crowds were everywhere! Here's a quick wrap up of what we saw, and experienced while we were there. (We still have some "Top 5" lists to come)
Gen Con was such a well organized, and planned event, with plenty to do for everyone, even if you're not a gamer! If you weren't there, you should come check it out with us next year!
TableTop Games:
So many games, so little time. We don't sign up for tournaments, we just like to get in on demos for new games, and check out games that we've heard about, but haven't played yet. A few games we checked out are in this post.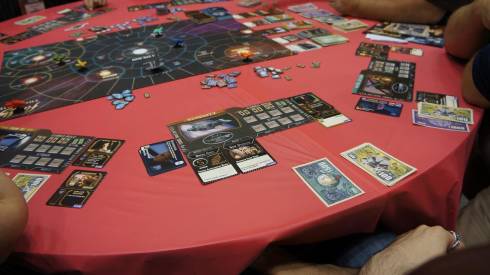 Firefly: the Game
– Ken got the chance to try the demo of this game, learning directly from the game designer. Check out our post on what Ken thought about it. Hint: This is a must have.
Mage Wars
– Chatted a bit with the volunteer at their booth, and he showed me what the game was all about. This really looks like a fun game, and we plan on buying it soon! Check out a video review I found on YouTube. Introduced at Gen Con was the expansion, Mage Wars: Druid vs. Necromancer.
Star Trek Catan
– We watched it being played for a bit, then decided we should just buy it. We're spontaneous like that. If you want to learn more about it you should check out the TableTop episode featuring the game.
Pathfinder Adventure Card Game: Rise of the Runelords Base Set
 It's a cooperative game for 1 to 4 players, and it translates the most popular Pathfinder RPG classes, abilities, magic, and more into an entirely new breed of card game.
Firefly: Out to the Black – This card game had flown under my radar, until I saw it at Gen Con. You build a team, and to win the game your team must make it through ten missions without running out of credits or honor tokens.
Geek Out!
 – This looks like a fun little party game. It's basically a geek quiz, with a twist. If the question asks you to name two currently deceased comic book characters, players can 'bid' against each other by saying they can name more.
Video Games:
There were some interesting things to check out in video games, though I was disappointed that Blizzard wasn't there with Hearthstone. I would have loved to demo that.
Hex: Shards of Fate – An online TCG, it's a new MMO TCG from Cryptozoic Entertainment. It supposed to be the first of it's kind.
Eon Alter – A tabletop video game. Yep, You read that right. Definitely an interesting concept, and one I want to check out further.
Panels & Screenings:
Screenings and panels are a great way to find out about new things, or to learn more about stuff you already love.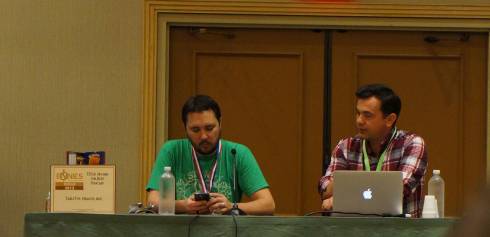 Inside TableTop was a panel with Wil Wheaton and Boyan Radakovich (Geek & Sundry producer). They chatted a bit about making the show, how it all started, and plans for the future. There was a Q&A, and we got an advanced screening of an upcoming episode. This was actually how we ended our Gen Con experience, and it was a perfect end to a great four days!
Walking in Circles had a screening for the entire second season, along with a Q&A with actors & creators. Head over and read our post about it, and don't forget to check out the series! Honestly, one of the highlights of our Gen Con weekend was meeting the guys from Walking in Circles.
The Gamers: Hands of Fate had a screening. It follows Cass as he sets out to win a collectible card game world championship… and a date with Natalie, one of the game's top players. (Check out their site to learn more, and see it for free until 8/31/13).
Cosplay: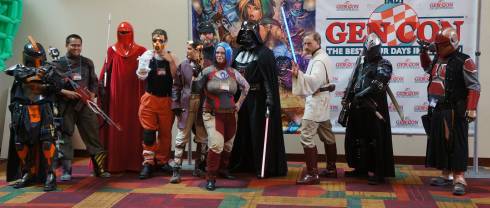 Cosplayers were everywhere, and we loved it! We took as many pictures as we could, and posted them up on here. One post was for a Doctor Who get together, the other post was filled with all kinds of cosplayers we saw each day. Next year we might be doing some cosplay too.
Media Guests:
I loved the media guests this year, my favorite probably being Peter Davison, who you may know as the 5th Doctor. Another favorite of mine was Walter Koenig. Of course I was thrilled to see that they had Neil Grayston (Fargo on Eureka), they also had Janina Gavankar (Luna Garza on True Blood).
Random Geekery:
This is another year where I forgot, every day, to bring a book for R.A. Salvatore to sign. Next year! But I love going into the D&D area, simply to see stuff like this…
One of the vendors has some pretty awesome looking crafted leather armor, like this one with the Horde symbol on it…
Speaking of World of Warcraft, we got to meet one of the artists for some of the trading cards, and comics (we bought a couple of his prints).
Also, we felt like we missed some sort of memo. We spotted so many kilts, just lots, and lots of kilts. Even Wil Wheaton was was wearing one.
Check out all of our Gen Con coverage.
Thank you GenCon, Indianapolis, all the wonderful volunteers, and the awesome folks who attended. It was a blast, and we hope to see you all next year!
Deliveries Kamagra Oral Jelly are conducted almost round the clock but. Next Day Delivery it is convenient not to everyone and therefore to solve to you.