Easy Pizza Balls for Movie Night
For us, movie night at home always means pizza!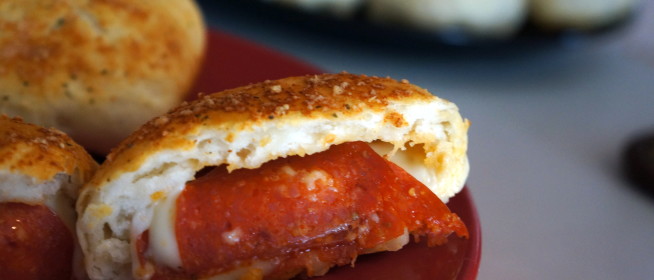 We were looking to save a little money on ordering out for pizza on movie night, but instead of just making a pizza we decided we should make pizza balls! 
I tried to make the recipe as simple, and tasty, as possible. I kind of guessed at how much of each ingredient to put in, it's how I tend to cook. So I apologize in advance for my poor directions.
Pizza Balls Ingredients:
2 cans of home-style biscuits (I use store brand, and usually get the larger ones, but you can get smaller ones if preferred)

8 ounce block of mozzarella cheese

Other ingredients based on preferences; pepperoni, green peppers, mushrooms, etc.

Pizza sauce

1/4 Cup melted butter

2 tsps. Italian seasoning

1/4 tsp. garlic salt

Parmesan grated cheese
Preparation:
Preheat oven to 400 degrees. Coat baking sheet with cooking spray.
Slice cheese. Flatten out biscuits (I just use my hands), layer about 3-4 cheese slices (if using larger biscuits), and ingredients of choice (we used 4-6 pieces of pepperoni). You can either choose to add a tablespoon of pizza sauce, or simply use the sauce as a dip. Pull the dough up over the ingredients and pinch to seal shut. Place pizza balls seam side down on pan.
Melt butter in a pan and add Italian seasoning & garlic salt. Spread mixture on top of pizza balls, then sprinkle with Parmesan cheese.
Bake for 15 minutes, or until golden brown.
This recipe makes 16 pizza balls. It can be easily altered to make more, or less, experiment, and have fun with it!
Deliveries Kamagra Oral Jelly are conducted almost round the clock but. Next Day Delivery it is convenient not to everyone and therefore to solve to you.