Okashi Connection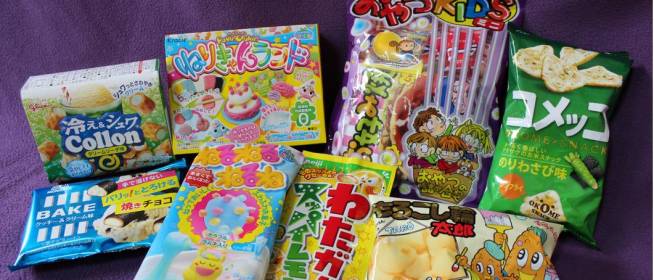 Okashi Connection is a new monthly subscription box that brings you all kinds of goodies from Japan. You can expect seasonal, limited run candies, and fun candies!
Okashi Connection is only $22 a month (no hidden fees or extra s/h), which is a truly great deal for what you will find inside of this box. When you subscribe use code "AwkwardGeeks" to get a bonus goodie in your box!
Inside July's Box:

Poppin Cookin – I received the Neri Candy Land one. Design the candy your own way! So much fun, especially if you have little ones around.
Creme Collon – Cream soda flavor. We usually get a giggle out of the name (and shape) of these treats, but they are so good!
Neru Neru Neru – This requires you to mix the powder and water to make the sticky candy, then twirl the spoon in the sticky candy, then roll it in the hard candy! Fun to make, and eat!
Wata Gum – Sour lemon flavor. This was super fun to chew and eat! It has the texture of cotton candy, but gets chewy like gum.
Komekko – Nori Wasabi. I devoured these! They were a crispy, spicy and salty treat.

Bake – Cookies & Cream. Crispy outside, soft on the inside, and delicious!
Morokoshi Wa Taro – Consomme flavored corn snack. Somewhat soft, and also crunchy, tasty treat!
Oyatsu Kids Pack – This package was filled with various snacks, all of it was delicious:
Okonomiyaki (cabbage based pancake) flavored crisps

Aji Curry. Japanese curry flavored crisps

Cola hard candy

Tamago Bollo 

Ramune candy
There was not one single disappointment in this box, and you can tell that they put a lot of thought into what they put inside.
Okashi Connection is possibly the best Japanese snack box out there. If you love Japanese candy, this is a must have monthly subscription box! It's an amazing deal at only $22, and it's filled with so many great treats. Don't forget, when you subscribe use code "AwkwardGeeks" to get a bonus goodie in your box!
Check out Okashi Connection on Facebook and Twitter!
[Images source: Okashi Connection]
Deliveries Kamagra Oral Jelly are conducted almost round the clock but. Next Day Delivery it is convenient not to everyone and therefore to solve to you.