Snack Review: Meiji Galbo Mini Maccha
Green tea & chocolate flavored Japanese snacks!
This week is a Japanese snack review. I found something chocolate and green tea, and knew I had to try it. I've loved various versions of green tea kit kats, and other green tea flavored snacks and beverages, so it only makes sense that I try everything with the word 'green tea' or 'maccha' in it. Right?
Opening the bag I get a nice, light scent of green tea and chocolate. I don't think this particular treat is very pretty to look at, they kind of remind me of some big pill you don't want to take, but have to for health reasons. I have no clue why I thought that when looking at them. I'm weird.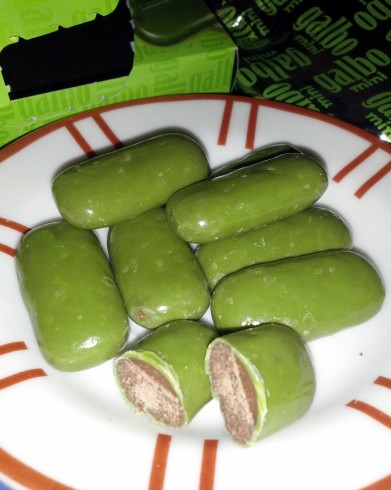 The inside tasted almost like a crunchy cocoa flavored cookie, I had assumed it was going to be the average milk chocolate filling, but I liked the cocoa cookie crunch, it was somehow satisfying. The green tea coating had a nice flavor, and the combination of the two was perfect. I really enjoyed these, and definitely want more. If you're onto green tea flavored products you might want to pick some of these up. I found the Meiji Galbo Mini Maccha on Asian Food Grocer.
Deliveries Kamagra Oral Jelly are conducted almost round the clock but. Next Day Delivery it is convenient not to everyone and therefore to solve to you.